Creating your own Wetland Habitat
Greenlink is excited to be a part of Sustainability Week and in partnership with Whitehorse Council's Trees and Urban Forest Program we will be conducting a free evening seminar on how to create a wetland habitat area in your own garden.
Join us to hear from guru and native garden expert AB Bishop and discover tips and tricks for creating your own habitat pond/frog bog area that will teem with wild life. Attracting frogs and dragonflies in your garden is a wonderful way to support our local biodiversity.
​​​​​​​

​​​​​​​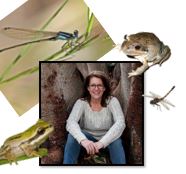 ​​​​​​​
Bring your drawing skills to create a sketch plan of your own wetland and identify plants you may need.
This will be an interactive evening with a chance to win a plant voucher from Greenlink.
Registration through Eventbrite is essential to secure your seat for this FREE event.
Light supper provided at the end of the talk.