Climate Action Through Gardening
Greenlink in partnership with the City of Whitehorse as part of Sustainability week 2023 were excited to sponsor this free event on "Climate Action through gardening" at the Box Hill Town Hall on Thursday May 4th at 7.00pm.
"Last night was a fabulous evening. Quality presentation with good advice. Supper was sensational. I appreciate the effort that went into the event. " This was an email Greenlink received less than 13 hours after our event. Date: Fri, 5 May 2023 at 10:05
The garden is more than just an outdoor room. It can be a place of Climate Action where you can connect with the environment and implement changes to reduce your contribution to climate change and help build climate resilience.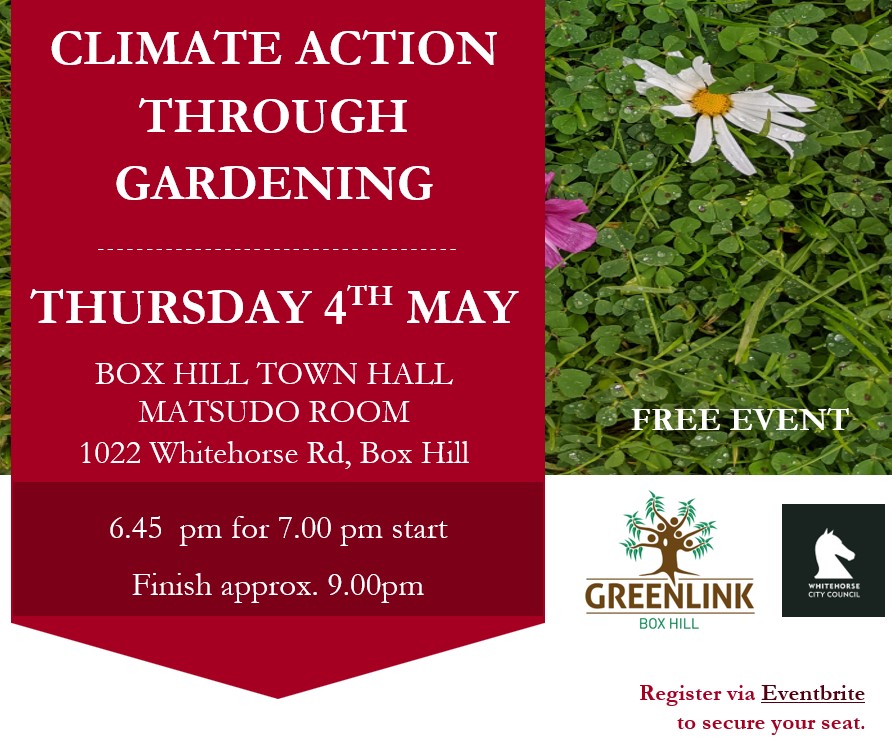 ​​​​​​​
This event was presented by Sustainable Gardening Australia and a member of their experienced speaking team Richard Rowe. Richard also works as an environmental educator for school children and adults at Edendale Community Environment Farm in Eltham. He used the Climate7 framework to explore how gardening can be a part of your Climate Action plan.
Topics Covered
How the Garden can be used to reduce your impact and adapt to a changing climate
Climate 7 framework
· Ways to Reduce Impact – Mitigation and Adaption
· Question Convenience,
· Get Informed
· Quite Consumerism
· Connect
· Use Your Voice
· Reflect
Organic waste and carbon emissions
Creating micro-climates to cool gardens and houses
Food gardening and reducing food miles
Water Smart Gardening and impact on emissions
Reduce, Reuse, Recycle